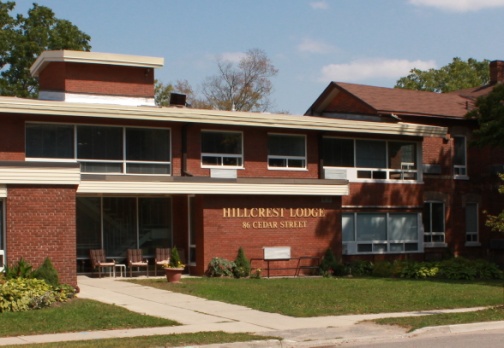 What is Hillcrest Lodge?
Hillcrest Lodge is a charitable organization offering affordable housing for seniors in need.
The founding Directors of Hillcrest Lodge realised that there was a serious gap in support for low income seniors and creatively came up with the current model of housing for those in need. This was accomplished by the renovation of an abandoned retirement home facility into 29 bachelor apartments. The building is owned by the United Church of Canada and is leased to Hillcrest on a long term basis. In 2008 the dream was a reality and Hillcrest Lodge became home for 30 very happy residents. Since 2008 it has actively provided bachelor apartments and two nutritious meals a day for 30 residents.
Our vision is to seek out seniors who have low incomes, who may have been marginalized by society and thereby provide them with:
A safe, secure and affordable place to live,
Two nutritious meals a day,
A community to become part of.
To date Hillcrest Lodge in Orillia, Ontario, may be the only facility in Canada that offers stable, geared to income comfortable housing with two nutritious meals a day.
We invite you to explore our website to learn more about our mission and how we accomplish it.
---